Oklahoma Towns and Cities
Points of Interests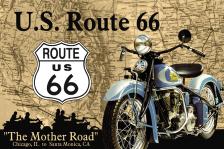 Although I can't mention every town and city of Oklahoma, it doesn't mean that each one is more or less important than the other. I have tried to comply a list of the them with some of the interesting points throughout my state.
Norman: The University of Oklahoma is located here and was built on an oval. The 76,000 seat stadium, also oval shaped, is the home of the O. U. Sooner football team. The University's President's house on campus was built around 1903 and has massive Ionic columns and with a balcony located on the south side with classic entrance.
Guthrie: This town is 94 years old and has about 100 buildings on the National Register of Historic Places, restoration is under way on a majority of these buildings, with completion on many. Sidewalks have been resurfaced and now covered with brick and the street lights have been replaced by gas lamp replicas. The storefronts remodeled in the 1960s with aluminum are being removed and restored to their original rugged version of the Victorian style. This town is home to about 10,312 people and 35 miles north of Oklahoma City.
Shawnee: The Shawnee Santa Fe Depot resembles a medieval watch tower, similiar to an English castle. It was built in 1902-03 and with its colonnade of rounded arches and circular ticket office is a fine example of the Romanesque revival of the late 1800s. Shawnee supports a population of 26,506 and has two colleges in town.
Arcadia: Located in Oklahoma County. The Arcadia Round Barn was built in 1898. It is a two story round wood barn, which measures 43 feet in height and 60 feet in diameter. It has been used for storage, a livery stable business and later for "barn dances."
Ponca City: Mariand Mansion sits on a 30-acre estate and imposing Florentine Renaissance mansion. High ceilings, rich interior with ballrooms, racquetball court, furnished in 1928 decor.
Pawnee: Pawnee Bill Museum sits on a hill west of Pawnee, this 1910 two story stone structure has a series of outbuildings located on the property. A herd of buffalo and longhorn cattle freely roam the range around this location.
Stillwater: Oklahoma State University has the uniformity of a modified Georgian architecture centered around a well-kept garden area which makes this 692-acre university exceptionally attractive. A number of barns and agricultural related buildings adds to the manicured landscape. Stillwater has a beautiful tree lined main street.
Bartlesville: Home of a major oil company, Bartlesville has a population of 35,000. Several buildings, designed by Frank Lloyd Wright, stand through out the city. The Frank Phillips Mansion is also located in the area.
Tulsa: Home of The Philbrook Museum which has 23 acres of gardens, beautiful skyline coordinating the old with the modern. Located on the banks of the Arkansas River surrounded by rolling hills. Tulsa is known for having cosmopolitan flavor and museums. Oral Roberts University is totally space age architecture. The City of Faith has three buildings with immense bronze praying hands at the entrance.
Enid: One of the world's largest grain elevators is located in this town of 50,363. Also the home of Phillips University.
Woodward: A contemporary western town of 13,600. Agricultural and ranch activities are the primarly source of income.
Watonga: The T. B. Ferguson Home is a two-story frame traditional victorian house, was built here in 1901. Oklahoma's only cheese factory operates from Watonga.
Fort Gibson: Original fort built in 1824 was accurately reconstructed even complete with log stockade, officers'quarters, mess hall. Also, several structures of this period are adjacent to property.
Hugo: A town of about 7,000 is on the southern Oklahoma border is the winter headquarters of the Carson and Barnes Circus group.
McAlester: Population of about 17,255, this is the site of the State Penitentiary. Surrounded by high walls, this institution is one of the best known state penitentiaries in the nation. The city includes an old town settled by many Italians in the early days and the Aldrich Hotel in the downtown section is vivid with its historical past.
Poteau: Population is approximately 7,089. Located on the eastern border, Poteau has a southern flavor with pre Civil War homes, railroad tracks at either end of the town, and with a large southern home, available for shooting, overlooking the area.
Ardmore: With a population of more than 24,000 this modern town is close to Lake Murray and has available a World War 11 air base that has been abandoned.
Fort Sill: In 1870, the Sherman House built for the commanding general and still stands near the Old Guard House (also called "Geronimo's Hotel"). Original corral with stockade structure and stone wall remains. The present day Fort Sill is the U.S. Army Field Artillery Center, spanning more than 90.000 acres.
Lawton: Over 80,000 people live in Lawton, the site of Fort Sill. It offers an several hotel/motel accommodations and magnificent older mansions. Close to rural locations and cotton gins.
Wichita Mountain Wildlife Refuge: One of the oldest mountain ranges in the United States. Over 59,000 acres of rugged mountain wilderness with vertical bluffs and lakes dotting the area. Hundreds of bison roam the range with Texas Longhorn cattle, elk, prairie dogs and coyotes live undisturbed in their natural habitat.
Red Rock Canyon: A hidden valley of red wall canyons surrounded by rolling plains and farm land. Oak, maple, sycamore and black walnut trees abound in this 310 acre state park.
Apache: Built between 1901-1902, the Apache State Bank is a two-story sandstone structure with a corbel and conical on the lower floor. It has been mainly restored to its 1902 appearance on the interior. The town of 1,560 also has a cotton gin and grain elevators.
Quartz Mountains State Park: Red granite and quartz mountains jutting up from the Oklahoma plainsform the setting for the 4,284 acre state park. An awesome panoramic view. Adjacent to Lake Altus. Near Altus with a population over 23,100. Altus Air Force Base is also located here.
Eagle Park: A replica of an old western town, antiques, Quanah Parker house (built in 1890 and complete with general's stars on roof). Numerous antiques around here. At Cache.
Meers: Once the site of a "gold rush" mining town, this 1902 wooden building is all that remains now. Great location for an out of the way "honky tonk" or a place for ghost chasing or watching.
Murray House: Two miles from Lindsay, this 1880 home boasts a dormered third story and a handsome portico supported by four massive columns. Furnished in the same period.
Cordell: An impressive court house with a clock in belfry which sits on the town square. Population 3,300.
Brady Cabin: Located in northern Carter County, this log cabin was built around 1892. Most of the original furnishings and some personal possessions are preserved here. The outbuildings contain a collection of antique farm implements and tools.
Robbers Cave State Park: Almost hidden in eastern Oklahoma's mountains is a cave 100 feet up an imposing cliff with a view of the rugged countryside. Breath taking and a great place to see mother nature. Near Wilburton.
Turner and Price Falls: Turner Falls is 77 feet tall and located on Honey Creek in the Arbuckle Mountains. Price Falls is a smaller, scenic area nearby.
Pitchfork Youth Camp: This was originally built for an old western movie set and the town is still intact. Near Canadian.
Tsa-La-Gi: Contains both an ancient Indian village of the 1700-1800 era and a rural village of late 19th century vintage. Not to far is the Murrell Home, a stately 1844 wooden mansion restored by the state, complete with the same era furniture.
Illinois River: A very heavily wooded with clear water with overhanging rock bluffs. Flows south/southwestward 109 miles; freeflowing and highly scenic. Every year hundreds of campers ride the waves.
Will Rogers' Birthplace: Near Oologah, the old two story house has been preserved by the state of Oklahoma. It is surrounded by extensive acreage of grassland with a view of Lake Oologah.
Little Sahara: About 344 acres of shifting sand dunes as far as the eye can see. Near Waynoka which is noted for its colorful train station and older residential neighborhood.
Alabaster Caverns: A beautiful large gypsum cave containing pink, white and varicolored alabaster and sparkling transparent crystals of selenite. The path is 2300 feet through cavern. A natural bridge rising 150 feet above the floor of scenic Cedar Canyon is located near the entrance to Alabaster Caverns. Near Freedom.
Black Mesa: Oklahoma's highest point of elevation. Towering area of volcanic rock with unusual formations. Near Kenton, a semi-ghost town which is isolated. Old sod houses nearby.
Great Salt Plains: Extreme vast flat area of white salt plains untouched by traces of civilization. Seven miles long and three miles wide offering feeling of desolation. Adjacent is a National Wildlife Refuge.
Ouachita National Forest and Talimena Drive: Almost a quarter of a million acres of mountains, pine and hardwood trees, trails and rustic lakes. The Talimena Skyline Drive State Highway 1 runs across the Ouachita Mountains with breath taking views of the area.
Broken Bow Reservoir: Approximately 14,240 acres of lake. Tall pine and hardwood forests and mountains surround this lake. Known as one of the prettiest lakes to be found in the United States. Not to far from Beavers Bend State Park with the free flowing Mountain Fork River.